Aside from sharing academic interests and being involved in research and education, the HSE team enjoys a vibrant community life. Different clubs, cultural events, outdoor activities and other projects enrich the extra-curricular time of the faculty, students, staff and university guests.
HSE's community events are usually open to all the members of the University and often to the general public as well, though some may require registration prior to the event. There are a number of activities, such as festivals, concerts, sports and travel which can be enjoyed regardless of your language proficiency in Russian. Some projects and clubs require a better understanding of the language, and can provide a good platform for socializing and networking, exchanging information with colleagues and improving your Russian. Naturally, some community events at HSE require fluent knowledge of Russian in order to participate in them fully. This guide will provide an overview of community life activities at HSE according to the level of Russian language proficiency needed for participation and the type of activities.
Events are announced on the HSE website, by mailout and on our bulletin boards. 
HSE Traditions and Annual Celebrations
HSE has its own traditions and annual events, which allow everyone to enjoy the University's atmosphere and spirit, despite the fact they are held predominantly in Russian.
No language proficiency is required
A number of sport clubs for faculty and students operate at HSE. Check the list on the relevant page of our site.
Music
The HSE Professors' club has been running various cultural events for many years. The most popular events are musical evenings called Professors' Wednesdays. These musical evenings have been held at HSE since 2003 and have featured musicians of various genres from ballad singers to world-renowned jazz musicians. Musical evenings take place at HSE Professors' Club not only on Wednesdays, as the musicians' concert schedule does not always allow them to choose the weekday. Since music is an international language itself, everyone can easily attend and enjoy these events. 
Working language – English/Russian
Open Lectures and Workshops
A university is not only an educational and academic campus; it is a source of new and bright ideas, as well as projects that define a city's social and cultural space. HSE holds an array of events within the university that are open to anyone. Some of them, such as research seminars and workshops of ICEF (International College of Economics and Finance), are in great demand and have a large attendance. Others, like lectures and additional optional courses of  IGITI  – Poletayev Institute for Theoretical and Historical Studies in the Humanities – on various subjects ranging from history to cinema, music and fashion, have already become a popular and beloved part of the University's community life.
The university also strives to create new platforms for communication, discussion and exchange of knowledge in the city.
HSE Lectorium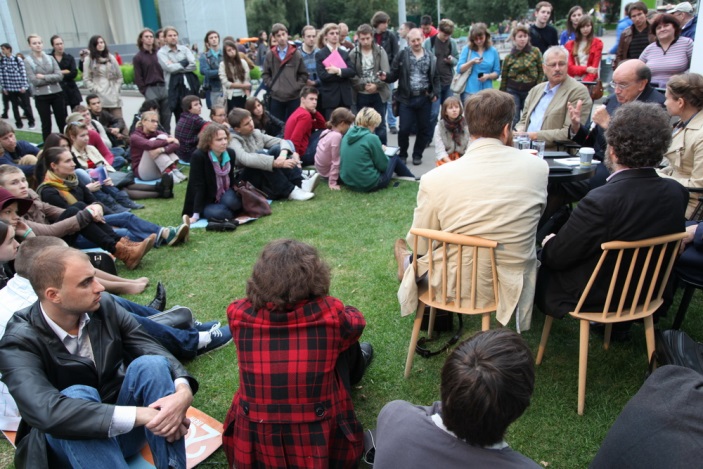 Through its new project "University Open to the City" HSE holds a great number of open lectures and presents a new style of  educational activity. These talks give participants an opportunity to listen to lectures by the University's scholars on the most interesting topics, and HSE speakers get a chance to share ideas with a wider audience and get their feedback . 
During warm weather, HSE runs a project called "HSE at Gorky Park". Lectures are held in the summer cinema "Pioner". 2015 will see the third season of this project, which has been a great success.
Starting last year, HSE guests have also been invited to "HSE Open Talks" – English-language lectures and discussions with HSE's international faculty from the world's best universities, a part of the University's recruitment programme.
This year HSE will offer lectures on business technology, philosophy, psychology, art, media communications and many other themes of current interest.
All year round lectures are also organized on Thursdays at Moscow museums and cultural centres where HSE's young lecturers regularly conduct evening lectures on a wide range of topics.
Working language – Russian
Cultural clubs
Although the current working language of the HSE cultural projects is Russian, the majority of participants have good English skills and are able to share impressions and opinions and hold a discussion with international faculty and students. The Cultural clubs of HSE provide a perfect place for socializing with local colleagues and students. They also give a unique opportunity for improving your Russian through discussion, small talk, watching movies, attending museums and traveling.
The majority of cultural projects are implemented by students with the support of their mentors. These projects bring together talented people who are eager to study and develop the cultural life of the University and the city. The goal of each project is to exchange knowledge and practical experience without any borders between students, lecturers and guests.
Cinema Club 'Blue Key'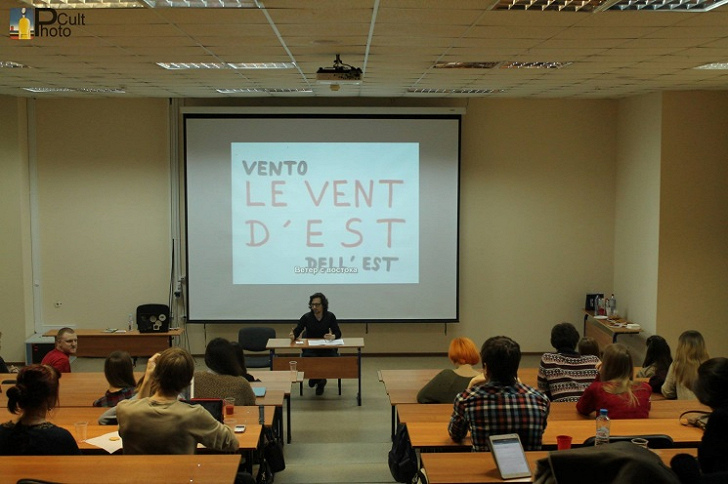 'Blue key' is different from typical cinema clubs thanks to its unusual layout and the concept behind it. The most important thing about these film screenings is not the movie itself, but the person choosing it. The guest presenting a film should offer a key for interpreting and understanding it. The choice of movie, the key for its explanation and the way of discussing it can tell you a lot about the person.
Anyone who has something interesting to tell the public, loves cinema and loves to analyze it and is ready to share their insights with the audience is welcome to join "Blue Key".
'Who killed Laura Palmer'
 'Who killed Laura Palmer' is a discussion club where students and professors discuss the world's most significant and popular TV series.
TV series have recently become a serious part of mass culture and an art form that has as much influence on young people as literature or cinema. However, the subject of discussion here is not the  TV series as an art form, nor its storyline, direction, etc. Instead, club members focus on the political and social contexts of modernity reflected in TV series. The schedule of upcoming meetings is posted on the website. 
Cultural travel club 'Ullyses'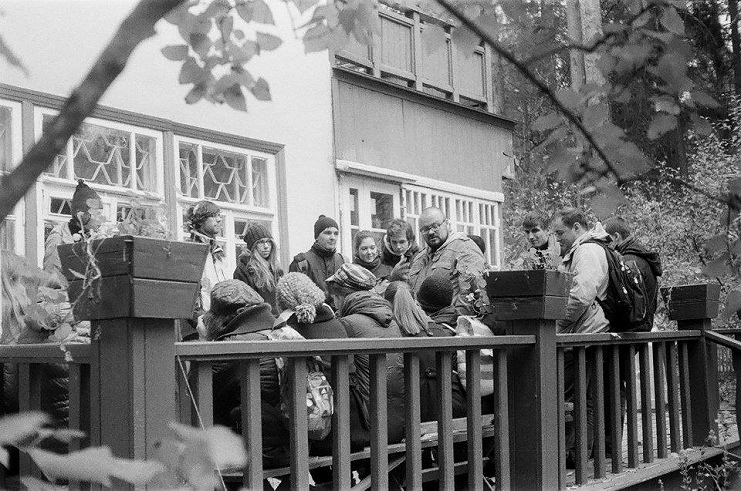 Students and lecturers of the School of Philosophy organize educational trips and walks to study urban culture. The goal of the project is to combine travel experience with the skill to pay attention to and analyze cultural artifacts and phenomena which form our contemporary living environment .
The club gives participants an opportunity to go beyond texts and books, to perceive the world of urban culture and to create their own texts about it.
Another form of activity of the club is "Virtual travel" – these are master-classes with experienced travelers who share their impressions and practical tips. You can get information about upcoming trips on Facebook.
Museing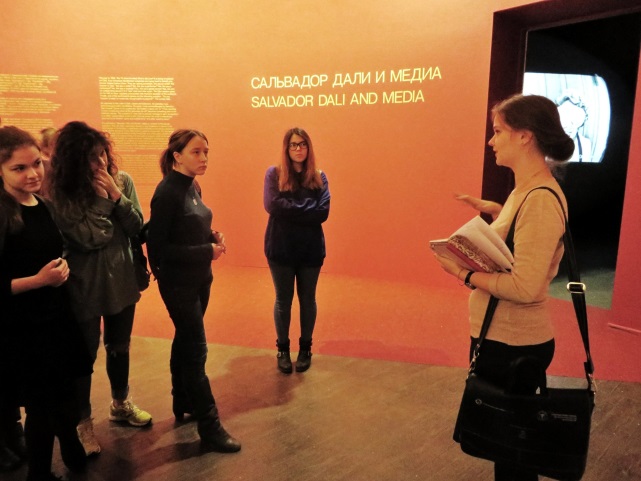 The project reveals the inner life of Moscow's museums and unites all those interested in Museology.
Students and faculty visit the most fascinating museums and galleries in Moscow, meet the curators and learn the secrets of hosting exhibitions. Participants visit not only the most significant expositions, but learn about some more unusual and lesser-known museums and exhibitions.
The visits are then usually discussed at roundtable meetings and described in essays, outlines and interviews. The project connects students and faculty and shows the relationship between the theoretical and practical aspects of Culture Studies.
Discussions and Meetings
There are a number of meetings and events which are conducted exclusively in Russian but should not go unmentioned because of their role and meaning for the University. These meetings are open to everyone and help the University's faculty and students to exchange views and interact with other important figures and institutions in the social, political and cultural life of the country.
More Important than Politics 
The HSE's Academic supervisor Evgeny Yasin has always been an initiator of large practical, cultural and scientific events at the University. In 2007, Yasin, in cooperation with Liberal Mission Foundation, launched a project of roundtable conferences. Each month famous writers, social commentators, film directors, academics and public figures debate various topics related to culture, traditions, history and human values with HSE students and guests.
The moderator of meetings is HSE professor, cultural critic, novelist and journalist Alexander Arkhangelsky. Along with Evgeny Yasin, the director of the State Literary Museum Dmitry Bak is the other host of the meetings.
Fans of Documentary
Another ongoing project carried out under the supervision of Evgeny Yasin is the Documentary Fans Club. The club is an educational project that acquaints the audience with different aspects of modern Russian and European society through cinema. The project introduces the best documentaries, often winners of prestigious film festivals. Participants discuss high-level examples of domestic and foreign cinema.
The head of these meetings is Grigory Libergal, critic, producer and vice president of the Guild of Documentary Film and Television of Russia. Documentary Fans Club meetings are held monthly. Don't miss information about forthcoming meetings through the mailing list and on the HSE website.  
Christmas Film Seminar
Each year on the eve of the Catholic Christmas, the Laboratory for Studies in Economic Sociology arranges a film screening to sum up the year, view its outcomes from different angles and to debate how to make the upcoming year better. The seminars are headed by the HSE first vice-rector Vadim Radaev, political analyst Sergei Medvedev and culture expert Vitaly Kurennoy.
The hosts choose a modern film, which characterizes the state of affairs in Russian society, and then initiate a lively discussion on the topics raised by the film. The Christmas Film Seminar is one of the most anticipated annual events at the University.
HSE staff can find out about these events on the HSE website in the All Events section.