Please register for the event

When and where?
"Living and Working in Russia" is a 1 day workshop for all new faculty and research staff, including family and partners, who have joined HSE to work and live in Moscow. The trainer is Mira Bergelson.
Who should attend?
This event is highly recommended for all new faculty.
What does it provide?
"Living and Working in Russia" provides our international colleagues the opportunity:
to get acquainted with or advance their knowledge of the Russian culture;

to better make their adjustment to the life in Moscow and at HSE; 

to accelerate their effectiveness in teaching, research and studies 

through attending interactive session, building on previous cross-cultural experiences, and from the advice and stories from experienced international colleagues.
 Workshop aims:

To build a self-sustaining network of colleagues and partners, and understand the expatriation life cycle;
To understand the Russian context: history, system of education, cultural differences, workplace practices, social etiquette, and the HSE academic culture;

To increase personal self-awareness and intercultural competences;
To explore possibilities of making a successful academic career in Russia.
 The training session includes three major components:
1. Building motivation to develop intercultural sensitivity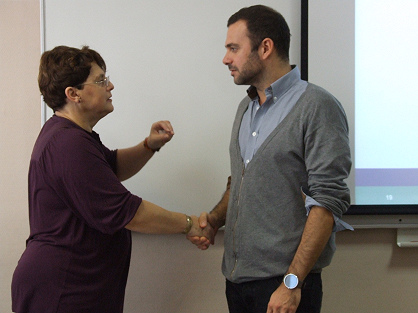 2. Getting knowledge about Russian culture and communication with Russians
3. Developing intercultural skills to be successful in everyday interactions and work

Session 1. Communication with strangers: Russia and its official culture and history; where does Russia belong?
Session 2. Becoming interpersonal:  Everyday communication with Russians – typical social situations and typical Russian stories
Session 3. Professional communication issues:  specifics of Russian educational and academic culture
Session 4. Getting across discourse boundaries:  diversity and social hierarchies, gender, age, geographic boundaries

Each session includes participants' induced discussions, knowledge sharing based on these discussions and experiential activities (case studies, simulations, role games).