Migration Card
Upon entry to Russia you will be given a migration card, which is usually distributed to passengers on in­coming flights while passing through a passport control and available at arrival points in Russia.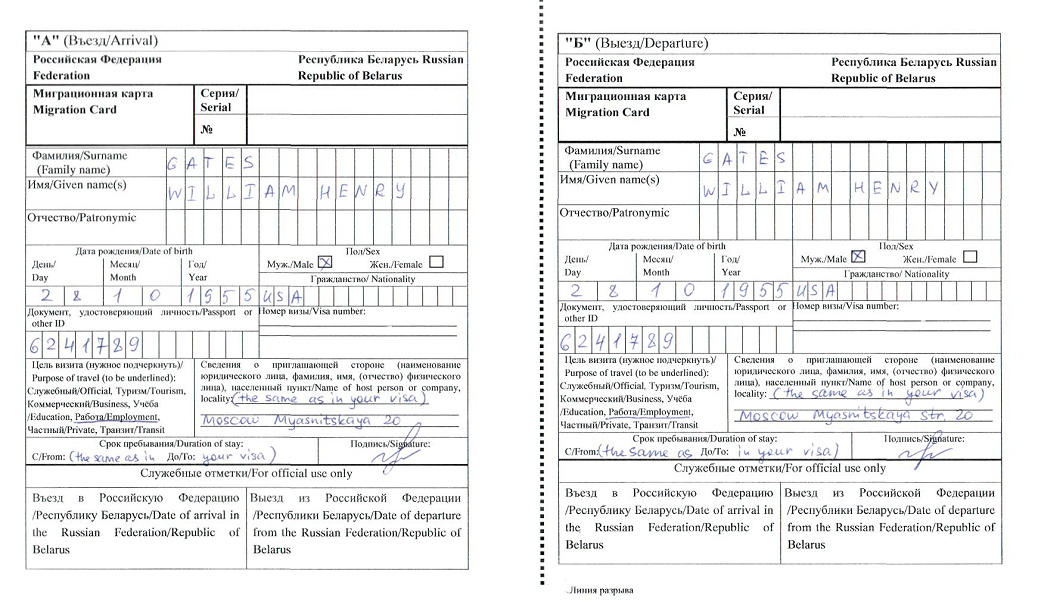 How do I complete a migration card?
Fill out two identical sections (A and B) of the migration card. The card should be completed using an ink pen without blots or corrections in Russian or English block letters according to your travel document data. Indicate gender in the corresponding column with an "X". Please be sure to indicate the inviting party and the duration of the stay as stated on your current visa.
What should be done with a migration card?
The migration card and passport with visa are handed over to a migration control officer for checking and fur­ther endorsement. Section A is taken by the migration of­ficial and section В is given back to you. The stamp date is considered the first day of your stay in Russia. Make sure that it is legible. A migration card must be carefully kept throughout the duration of your stay in Russia and is given back upon departure. A new migration card must be filled out each time a for­eign national enters Russia.
What happens if I lose my migration card?
You should inform your coordinator and follow the procedure outlined at the Visa and Registration website within 1-2 days of the loss of migration card. We advise you to keep copies of your migration card, passport, visa and registration coupon in your files in addition to the originals. After your migration card is re-issued, please mind that you should apply for registration (see below).
Registration

Please mind the new rules of registration! 

As a foreign citizen, you must be registered by the General Administration for Migration of the Interior Ministry of Russia  upon arriving in Russia. This registration is proof of your legal stay in Russia, and foreign nationals must show confirmation of their registration together with their passport and migration card to police officers when asked. Please forward your questions on the registration issues to the HSE Visa and Registration Centre. Please note that the University doesn't provide registration for Russian citizens.
What do I need to submit to be registered?
You should provide the following items to the administrator of the HSE Guesthouse / apartment owner and to your unit coordinator:
a)     a copy of all passport pages
b)     a copy of your current visa
c)     a copy of your migration card
Please be kindly informed that the list of necessary documents can be different and it depends on the local territorial body where the documents will be submitted. To get the complete list of documents please contact the passport officer at the HSE guesthouse or at the local territorial body personally or with assistance of the landlord.
If you need a HSE request form, please see the information at Visa and Registration Centre.
How quickly do I need to be registered?
Category of foreign nationals
Deadline for registration upon arrival at the place of employment
Deadline for registration in case of business trips or vacation in Russia

Visa-free

7 business days, except for citizens of Ukraine (up to 90 days), citizens of Belarus and Kazakhstan (up to 30 days) and citizens of Tajikistan (up to 15 days)

HQS

This category includes employees who arrive in Russia with an HQS visa or who have converted their visas to HQS visas while in Russia.

If the stay of the HQS visa holder is more than 90 days, he or she must register within 7 business days after the expiry of the 90-day period.

Note: As registration is still needed for some formalities (obtaining a bank card, a health insurance policy, etc.) we kindly request that HQS status holders submit the documents for registration within three business days of their first arrival in Russia.

If the stay of the HQS visa holder is more than 30 days, he or she must register within 7 business days after the expiry of the 30-day period. 

Other visas

7 business days
7 business days
Which document confirms my registration?
This document is a registration coupon. It is to be collected within several days upon submitting the documents for registration. Please be careful not to lose this coupon. It is useful to make photocopies of your registration coupon, passport, and migration card to keep in your files.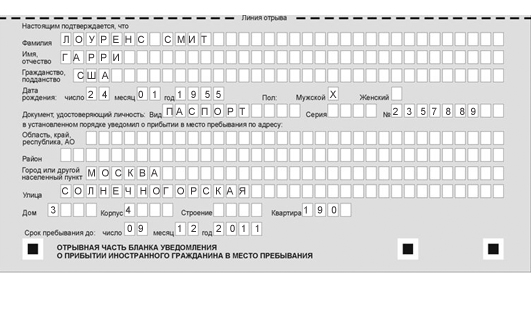 Do I need to reregister if I leave the city/country?
If you leave Russia within the term of your visa's validity, you must be registered again following your next entry into the country.