RECEIVING MAIL & PACKAGES
When sending and receiving mail, please note the following points:
all mails and packages delivered to the HSE Administrative office are opened due to internal registering regulations;
on average it takes 10 to 14 days to deliver a letter to/from Europe and about 3 weeks to deliver it to/from USA;
if you need faster communications, you will have to rely on express-mail or speedy mail arrangements.
Addressing Faculty Mail & Packages
To have the mail delivered to HSE the sender should follow the format described below. Not following the proper mail addressing procedures may result in service delays or failures. 


The Russian post delivers mails and packages to the HSE Administrative Office every day.  Mail is then sorted and placed in departments' mail folders at Room 441 (20 Myasnitskaya str.) or at Room M118 (11 Pokrovsky blvd). Delivery is available at other HSE buildings (depending on the address); please contact your coordinator for details.
Please do not send cash, cheques, gift cards and any other valuable items via standard post. Extra services are offered by express shipping companies, like FedEx and DHL.
Packages
Parcels arriving at HSE via the Russian postal system, FedEx, DHL and other companies are delivered to the HSE Administrative Office at 20 Myasnitskaya str., Room 441 or at 11 Pokrovsky blvd, Room M118. They are received by the HSE Administrative Office staff and registered within the system. Then the recipient or the secretary of his/her department is informed about the delivery by corporate e-mail.
Receiving packages at the post office
If you receive a notification from the post about a package, please go to the post office mentioned in the notification. To get your package you'll need to bring your passport and a Russian translation. All packages will be kept for 30 days, after which they are returned to the sender.
SENDING MAIL & PACKAGES
Please note that if you want to send any mail or packages via the HSE Administrative Office, you should contact your coordinator / responsible person at the Department to approve the mailing.
MAIL-BOXES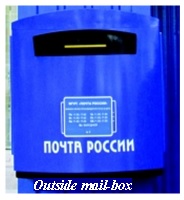 The simplest way of mailing a letter with the stamps attached is by putting it in one of the blue mail-boxes. These can be found near all local post-offices and at different locations throughout the city. Every post-office also has more mail-boxes indoors. The mail-boxes can be blue for all mail, red – only for mail inside Moscow and yellow – for express mailing in Russia. 
Note! Letters are collected from mail-boxes:
  - Monday to Friday - twice a day (in the morning and at the evening)
  - Saturday and Sunday - once in the middle of the day.
  - The collection schedule is written on the front of each mail-box.




POST OFFICES
Envelopes, postcards and postage stamps are available at all post offices (there are over 590 offices throughout the city). Postcards and envelopes are also available at Rospechat (Роспечать) newsagent kiosks; cards can be found at most bookshops.You can mail your cards or letters at the post office (look for the closest office to your location at the web site).


EXPRESS MAIL
Several companies provide express mail services to individuals. Prices and terms depend on the company and the country of destination. Usually it takes 2 to 3 days to deliver a letter to/from Europe and about 3-5 days to deliver it to/from USA. The price range for Europe is 3000 – 5500 rubles and 4000 – 7000 rubles for USA. Below are links to the most popular and reliable companies.
Address: 127083, ul. 8 Marta,14
Phone: +7(495)956-10-00
E-mail: ruwebcustomer@dhl.com
Address: Sokolnicheskiy Val, 1L
Phone: +7(495)737-52-23
E-mail: info@me-online.ru
Address: 123458, 2-aya Lykovskaya Ulitsa, 63 bld. 10
Telephone: +7(495)797-27-77
E-mail: tnt@tnt.ru