Holiday Celebrations Around the World: Germany and Italy
New Year's special edition of The HSE LooK is now available for read and download! For this issue we have been gathering winter holiday traditions from around the world and many of our findings were kindly shared by international professors and postdocs. Today we present contributions from Germany and Italy.

Germany
Michael Rochlitz, Assistant Professor at the Faculty of Social Sciences:"On December 24th we go to church, then we go home and light the candles on our Christmas tree, exchange presents and have a traditional Christmas dinner, which is potato salad, sausages with lots of mustard, and beer. On a Christmas day, December 25th we have goose traditionally served with dumplings and red cabbage (Klöße und Rotkraut). Every year after Christmas my family goes to Bavaria for a couple of days, until New Year. And at New Year, we gather with friends, watch Dinner for One, and play board games until midnight. At midnight, we go outside with a bottle of sparkling wine to greet the New Year and watch fireworks."
Italy:

An Anonymous Expat's Bergamasque Homage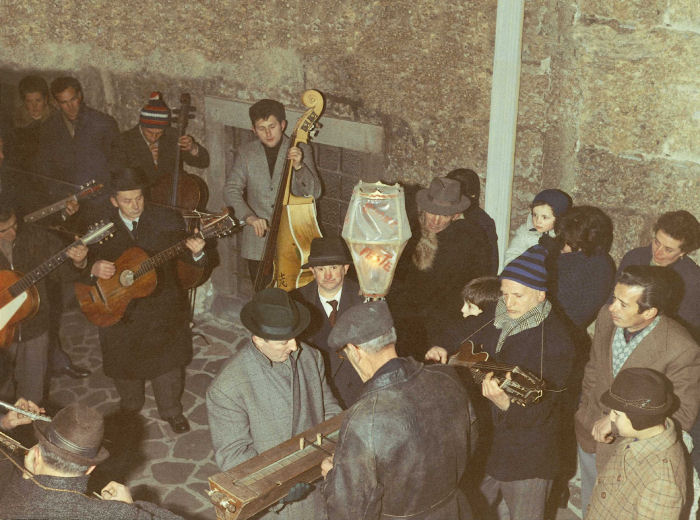 "Once upon a time in a former, academically-untroubled life, I used to join the group La Pastorèla on Christmas Eve. Mandolins, guitars, a mandola, a flute and a contrabass went around the village of Gandino and joyfully played at the main crossings and the most popular places by shepherd's heirs. We were dressed in our grandfathers' heavy cloaks and hats (this was the case for me at least). We thus used to brighten the atmosphere for the inhabitants and were very grateful to be offered during the cold night, some vin brûlé at an old osteria in Cirano or at the alpine trooper's vigil in the historical Palazzo Giovanelli. Later I tried the German variation of this Christmas drink, Glühwein. Along with well-known Christmas music, our most characteristic piece was the Pastorèla (dialect name for "pastorale") of Gandino. This Pastorèla is played only in our village; in the neighbouring village they played a different version of it. In the Pastorèla's glorious past, guitars and mandolins weren't the only instruments that belonged to this genre, but also a violin and a campanine (a sort of xylophone) and less often the baghèt (local bagpipe), which has been newly rediscovered.
Christmas is not only a religious celebration, it is also an opportunity to be confronted with popular culture and deal with diversity in space and time. Intrigued by the area? I suggest you to read Pimpì Oselì, a narrative of everyday hard life in the Orobian valleys. But, for Christmas, you may listen to old and recent records of the Pastorèla, which is still performed."
The full text of the issue can be found in The HSE LooK 10 (17), December 2014. If you are not on our regular mailing list yet, please subscribe and get fresh issues of bulletin every month!