Shaping the Urban Environment through Public Discussions
Vysokovsky Graduate School of Urbanism at HSE is regularly holding events and activities open to the general public. Deputy Dean Vera Leonova told The HSE Look about the goals of such open projects, benefits of collaborations and future plans of the school.
Why did the School decide to hold regular events open to the public?
The Graduate School of Urbanism
was set up in 2011, and during the first years the focus was mainly on the educational programme and research. In 2015 we felt ready to reach out to a wider audience. We firmly believe in the HSE's principle 'University Open to the City' and decided to follow it. At first, our open lectures were organised ad hoc, whenever an interesting speaker was visiting, but in 2016 we took a more conscious approach and designed our own cycle of public events called 'Open University'.
Urban issues are widely discussed at the moment, which is one of the reasons why our public programme is so popular. However, such popularity brings about certain misconceptions. Many associate the urban agenda exclusively with place-making and top-down urban initiatives. Our mission is to show how diverse and complex the urban context is, and promote a truly professional debate about the city.
Naturally, we have pragmatic considerations – through our public programme we want to draw attention to the School and get more prospective students. Nevertheless, our major intention is humanistic: we believe that the University should be open, both in terms of ideas and in terms of physical space. We want to contribute to knowledge dissemination and help nurture a new generation of active citizens in Russia.
What are the types of events you organise?
We have a variety of formats, including public lectures, roundtable discussions, 'urban breakfasts' and movie screenings. In 2016 we held over 70 events in total. Most of them took place at Dostoyevsky library, our partner venue. When we organised our first events, we wanted to find a place where registration for an event would not be required. Unfortunately, HSE premises would not suit, while the library was a perfect match. It is a contemporary public space at Chistoprudnyi boulevard within a 5-minute walk from the Graduate School of Urbanism, and its director was very enthusiastic about our initiative. We agreed to hold lectures and discussions every Wednesday at 8.30pm, so that people can come after work. The topics range from financing infrastructural projects and land regulation to participatory planning and urban activism. The library has wide windows facing the boulevard, and passersby who are interested in what is happening inside may drop in. We promote the events through our social media, and there is a web streaming for those who cannot join us in person. Later the videos are posted on YouTube, and we already have over 13,000 hits for 35 videos.
Urban breakfasts are more interactive and informal. We invite a prominent speaker who shares his/her thoughts with us over a cup of coffee followed by a vivid discussion. Naturally, fewer people can attend in the morning, which results in a very cozy and friendly atmosphere. Last year we held a series of breakfast discussions dedicated to street art and artistic interventions. The reading groups also proved to be successful. We select a short excerpt (around 10-20 pages) among the classics in the literature of cities – Walter Benjamin, Louis Wirth, Jane Jacobs – and send it out to the registered participants. During breakfast, we provide some context about the author's work and invite the participants to share their thoughts on the reading of the day.
Finally, there are movie screenings, which we all love. Last summer we partnered with the Bauman Garden park and Goethe Institute to show German movies on a variety of urban subjects, such as architecture, street photographers, life in Berlin, etc. The screenings took place in the open air and were very popular both among our core audience and passersby who were just having a stroll in the park. We certainly plan to continue this year, and are already working on the programme.
Are there any other partners with whom you organize events?
We partner a lot with cultural centers, such as Goethe Institute and British Council, and embassies. Such partnerships broaden our networking opportunities and help bring international experts to Russia. It is incredible how much can be achieved through partnerships and good will. Each party contributes the resources they already have: a venue, expertise, or PR, and we all benefit from cumulative results. With each partnership come new ideas and projects: for example, a lecture that we organised together with the Polish Cultural Center resulted in a series of events on Polish cities including a conference, a newspaper publication and an exhibition. We realised how much we have in common with Poland due to the decades of planned economy, and that we can learn a lot from the Polish experience.
Also we organize extracurricular activities for students in partnerships with Russian and international institutions. For example, together with the Civic Initiatives Committee we have recently held a student workshop dedicated to what everyday urban life would look like in 2035. Last year the Chief Architect of Moscow Sergey Kuznetsov invited us to do a student workshop for the Venice Biennale, and as a result, 12 students went to Venice to present their works. This year we are discussing a number of workshops with international schools, such as IAAC in Barcelona and the School of Architectural Association in London. They will not be limited to GSU students and provide an excellent opportunity for exchange and networking.
In the end of 2016 the Graduate School of Urbanism opened the Shukhov Lab in the main HSE building on Myasnitskaya street. How does it fit into your work? What is the idea behind the Lab and how does it work?
The Shukhov Lab is our new educational and public space that aims to foster innovation in urban planning and management through the use of IT and digital technologies. It is equipped with latest prototyping equipment, such as 3D printers, engravers, laser cutters, etc. We conceived the idea in the vein of FabLabs, which are growing in popularity and spreading throughout the world. FabLabs are workshop-like spaces in which students and citizens can produce things, make prototypes and experiment. We got a green light from the Rector and transformed a former standard classroom into a modern Lab.
The Shukhov Lab will soon become home to our new Master's programme 'City and Technology' which launches in September 2017. At the same time, it will continue to serve as a public space where we host lectures, discussions, and workshops devoted to technological developments in the city.
This new focus on technologies allows us to develop a wider and a more global urbanist agenda. Being a young academic establishment founded in 2011, the School's initial focus was primarily on Russian urban regulations and practices. Considerable efforts are now being made to broaden the educational programme and develop a more global perspective on urbanism. Last year we launched our first international master's programme, Advanced Urban Design, together with Strelka Institute, and now Shukhov Lab is a natural continuation of our strive to internationalise.
There is an open call for resident fellows at the Lab - is it a common practice in other institutes and schools that do urban studies?
Having resident fellows at the Lab means that we get to know more people interested in prototyping for the urban environment. The best international universities now have their own fab labs, and we are trying to keep up. We want the Shukhov Lab to become a platform that unites young people and researchers working on technological solutions for future cities. We cooperate with HSE Innovation Centre and external institutions that support start-ups and young researchers. Many people and organisations contact us with collaboration proposals, and we are at this stage building the network. For example, Moscow City IT department has recently expressed interest in doing projects together and involving our students in their urban projects as an integral part of the curriculum.
Why is the Lab named after Shukhov?
We had several ideas and were trying to choose among them when the School Dean, Professor Alexei Novikov, told us that the famous engineer and architect Vladimir Shukhov worked in the Myasnitskaya 20 building since the 1880s. And everything clicked into place: Shukhov's name stands for the values we want to promote: innovation, technological breakthroughs, engineering genius, it helps maintain the history of the place, and besides, we are in good relations with Shukhov's great-grandson! So, in hindsight, it seems impossible that we could even consider any other options. 
Read more in The HSE Look April 2017 issue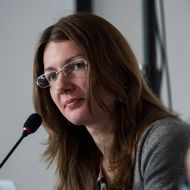 Vera Leonova