Discovering HSE University and Russia
Institute of Education
© HSE University
The HSE Look is restarting a column about life in Russia, what can be discovered in its various cities, and interesting venues at HSE University and beyond. Here is a column by Dr Jamie Costley.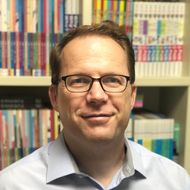 Dr Jamie Costley is an Assistant Professor in the Department of Educational Programmes, Institute of Education. Jamie was the first international faculty member to obtain a visa and enter Russia in November 2020, after the protective measures were relaxed. Making a fresh start can always be a challenge, especially faced with a serious pandemic like COVID-19. Jamie shares his thoughts about living in Moscow and offers some practical tips.
Making a Fresh Start in Challenging Times
I arrived in Moscow in November of 2020 and was required to quarantine for two weeks. After my quarantine was completed, I was able to go to work and explore the city. In the beginning, I was mostly interested in visiting my workplace and exploring the area around where I live. The HSE University guest house of the Moscow campus is located in a nice area that is close to a reasonably sized mall with a supermarket.
There are many little walkways, paths and small parks, which make walking around the area easy, relaxing and interesting
Also, where I live is within walking distance of Gorky Park, which at the time (winter) wasn't such an enjoyable and safe place to be because the ground was slippery and muddy and there were few leaves on the trees.
However, as I write this now, Gorky Park is a great place to stroll through many different winding paths and enjoy the scenery. While it can be busy on the weekends or public holidays, during the week, it is a great place to visit and you may walk alone and explore the many routes and paths in peace.
Getting Around: Taxis, Metro, Bikes, and Scooters
As I was unfamiliar with Moscow, I initially took taxis from the guest house to my work at the Institute of Education on Potapovskiy Pereulok. This trip varied widely in terms of the time taken - from twenty minutes, to one time, when I was coming home on a Friday evening, it took an hour and a half to return owing to the traffic.
Luckily, a friendly coworker showed me how to easily navigate Moscow's underground metro system. I live about 200 meters from the stop Leninsky Prospect, which has trains arriving every few minutes. From there, it takes about 15 minutes to get to the station nearest to my work.
This was a vast improvement from taking a taxi. I spent much less time in transit and it was significantly easier on my wallet.
The subway system is quite easy to navigate and nearly everything is signposted in English, as well as Russian
Furthermore, I recently downloaded an app, which allows me to use the public bikes and scooters that are located all around Moscow. One can easily use this service (it is in both English and Russian), and it allows you to unlock a bike from the station and then drop it off at another station near where you are going.
This is a great way to see the city, get some exercise, and travel around