Settling-In Allowance
What is it?
This is a lump sum designed to cover expenses associated with the settling-in of an international employee at a new location.
Who is eligible?
Any tenure-track and postdoc hires.

When is it paid?
Within 3 weeks of the work agreement coming into effect.

What documents do I have to provide to get it?
The bank account number of a Russian bank.

Is it taxable?
Yes. Taxes applied to this sum depend on one's tax residence status.

Taxation
Taxes Applied to your Salary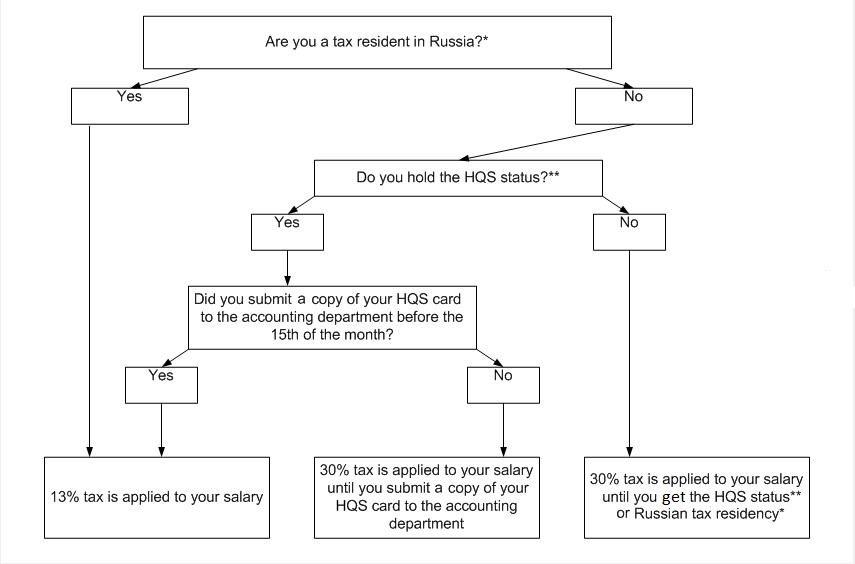 *A tax resident is a citizen of any nation that has lived on the territory of the Russian Federation for at least 183 days within the last 12 months.

Taxes Applied to Other Payments
The HQS status does not give an employee the right to get a 13% tax applied to other payments such as settling-in allowances. Whether it's a 13% or 30% tax rate will fully depend on the tax status of the resident. A tax resident is a citizen of any nation that has lived on the territory of the Russian Federation for at least 183 days within the last 12 months. Other foreign nationals are not considered to be tax residents in Russia. A 13% tax is applied to income and other payments of Russian tax residents, whereas tax rate for non-resident individuals is 30%.
Tax Deduction and Tax Filing
All taxes are deducted from your salary automatically by the employer. It means that the actual sum you receive is your salary after taxes. It also means that you will not have to file taxes in Russia.
For further information on 
Insurance Contributions to the Pension Fund, Social Security Fund and Compulsory Medical Insurance Fund of the Russian Federation, Deducted from Payments to Individuals we recommend you to visit this page.
Health Insurance
International faculty at HSE are provided with basic health insurance financed by the university. RESO Insurance Company is the health insurance company for 2018 chosen as a result of an annual competitive procurement procedure. Please note that the university has year-long contracts with insurance companies, which means that every January employees receive new health insurance policies. 

The insurance is valid in Russia and covers outpatient care in select Moscow health clinics, home care, emergency and planned hospital admissions, and basic dental care. The insurance covers acute diseases and trauma treatment but does not cover life-threatening diseases, treatment of most chronic illnesses and pregnancy-related care. An ambulance can be called to any location within Russia free of charge. For more information about the services covered and the most usual questions on the use please consult the detailed decription below.

For more information about issues related to medical services please refer to the webpage of the Office of Staff and Students Benefits. For other questions regarding your health insurance you may contact the Office specialist Natalia Romanova +7 (495) 621 70 78, nsromanova@hse.ru.


Emergency medical assistance
I. At HSE
Several HSE buildings in Moscow have first aid posts where you can receive pre-doctor care. The first aid posts are located at:
- Room 105, Ground Floor, 20 Myasnitskaya Ulitsa
  10am – 5.30pm, Monday – Friday;
- Second Floor, 44 Izmaylovskoye Shosse (the building next to 33 Kirpichnaya Ulitsa)
  8am – 8pm, Monday – Friday;
- Room 217, Second Floor, 3 Kochnovsky Proezd
  9am – 4pm, Monday – Friday.
If you work in one of these buildings, and you are unwell (e.g., experiencing dizziness, staggering, or headaches, etc.), or have a minor injury, but your condition is not life-threatening, you can turn to a medical post for assistance. There, you can have your temperature and blood pressure measured, as well as receive first aid.
However, if there is even a slight suspicion of a more serious problem, it is better to call for emergency medical care.

II. Outside of HSE (on the street, in public places, etc.)
a. Calling a state ambulance
To call for state ambulance services, you must dial 112 from your mobile phone (emergency calls from mobile phones are free of charge). Please note that 112 is the all-Russian emergency number, a hotline that is available 24/7. It also has English-speaking operators. Furthermore, its specialists can provide professional help and expertise at any time, irrespective of your citizenship and type of insurance policy. Emergency care is provided throughout Russia, in all Russian cities and towns. Usually, an ambulance team arrives within 15-20 minutes depending on your location. All ambulance vehicles have medical equipment, so that the team can provide on-the-spot medical assistance, as well as take you to a medical facility if they are unable to normalize your condition.
In case of a life-threatening situation, anyone admitted to state and municipal health institutions is entitled to free initial medical care (emergency medical assistance, including specialized assistance) until they are out of immediate danger. After this, if further medical treatment is needed, it shall be provided at a fee. Please make sure that your insurance policy covers such expenses.

b. Private ambulance service
Certain private institutions provide their own ambulance services. There are a number of private clinics in Moscow that provide emergency assistance, a few of them are listed below:
GMS Clinic, +7 495 781 5577;
European Medical Centre, +7 (495) 795 03 03;
Medicina Clinic, +7 (495) 229 00 03. 

c. Insurance policy
We strongly recommend that you keep your insurance policy (or its copy) with you at all times (as an option, you can also take a picture of it, so that it can be easily accessed when needed from your cell phone).
Medical services and assistance to those temporary residing in Russia under travel insurance or voluntary health insurance are provided in accordance with an insurance agreement, depending on the scale of the insurance premium. It is highly advisable to carefully review your insurance contract and terms of its use (usually provided in the form of a brochure attached to your policy), as the scope of services and medical institutions you can turn to may be subject to certain restrictions. As a rule, free medical assistance is provided in certain institutions and under a prior arrangement with an insurance or medical services company. Therefore, keep in mind that reimbursement of expenses that have not been agreed with an insurance company is not guaranteed.

III. Usually, the steps to be taken include:
Contacting your medical insurance operator using the phone number indicated on the insurance policy or the number for state ambulance services (112);
Making sure that you provide your full name, correct address, and contact phone number, as well as describing the situation in detail (e.g., symptoms, conditions, etc.);
If you contact a private medical service company (e.g., GVA), please provide the operator with the name of your insurance company and policy number.

IV. Informing your coordinator
As your coordinator is your main contact at HSE, as well as in Russia, it is highly advisable that you let him/her know about your situation as soon as possible. The coordinator may either advise you on what to do in this situation, request assistance, or tell you how to proceed with medical assistance. This will also allow HSE to think of ways to make up for your absence, if required, as well as spare you from possible problems if you are hospitalized but no one has been informed about it.
Accommodation
HSE usually provides new tenure-track hires with free initial lodging at a HSE Guesthouse for up to 60 days. Unfortunately, accommodation for families cannot be assured. Please note that pets are not allowed in the Guesthouse.
New employees are supposed to find a flat and move there, when the period of free housing at the Guesthouse is over. HSE provides international hires with contacts of English speaking real estate agencies. No additional subsidy for housing is provided by HSE.